The 2022 Hot Topics Conference
The Mac-Nutrition LIVE Days are when we bring an industry-leading expert, or experts in to speak on a wide variety of topics, and to really promote evidence-based practice. These days not only look at the theory of business, and the science of nutrition and soft skills but also the practicalities of working with clients and as a practitioner, in the real world. We use these days to not only educate our Mentoring Lab members, but also the general public who are interested in nutrition, and other practitioners within the industry. Every Mac-Nutrition LIVE event also includes an evening social consisting of a three-course meal and famous after-party, providing the perfect opportunity to network with like-minded individuals and help cement true friendships and relationships in an otherwise lonely, dog-eat-dog industry. Mac-Nutrition Mentoring Lab members are also privy to discounted tickets to all of our Mac-Nutrition LIVE events!
Speakers on the Day
Rachel Hobbs | Specialist Dietitian & Therapist

Talk Title: How We Can Improve Our Relationship With Food Through a Somatic/Body-Based Lens
Rachel is a Registered Dietitian, Personal Trainer and Pluralistic Therapist with specialist interests in eating behaviours and body image.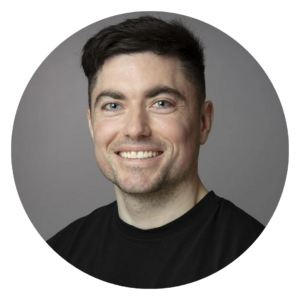 Danny Lennon | Founder of Sigma Nutrition & Host of Sigma Nutrition Radio
Talk Title: Is Getting Clients To Intentionally Lose Weight Doing More Harm Than Good? What Does The Research Say?
Danny is the founder of Sigma Nutrition, a company providing educational media content on evidence-based nutrition. Danny is also the host of the top-ranked podcast Sigma Nutrition Radio, which as of 2022 has over 7 million downloads, and a monthly audience of ~100,000.
His interest and knowledge spans across a number of different areas in nutrition. Danny uses his scientific background to read and interpret the latest nutrition research, before communicating the key points to his audience. In addition to his science background, Danny has also worked as a nutrition practitioner for several years.
Danny is also a sought after speaker on evidence-based nutrition, speaking at conferences and seminars all over the world. He has presented at events all over Europe, Australia, and the United States. He has spoken at corporate organizations such as LinkedIn, Johnson & Johnson and Gilead Sciences.
Ursula Philpot | Consultant Dietitian and Senior Lecturer Specialising in Eating Disorders

Talk Title: Unique Insights into Hypothalamic Amenorrhea & Energy Availability from an Eating Disorder Dietitian
Ursula is a consultant dietitian and senior lecturer specialising in eating disorders, disordered eating, mental health and autism. She has a clinic for eating problems in Leeds and works in complex mental health in Bradford.
Ursula is a Clinical Associate for Children and Young People's Mental Health in Yorkshire with NHS England. She is especially interested in producing guidelines, pathways, and consensus statement within the area of eating disorders and mental health.
Roundtable Q&A with the Speakers hosted by Martin MacDonald

Roundtable Q&A with our expert speakers, Rachel Hobbs, Danny Lennon & Ursula Philpot, hosted by Martin MacDonald.